De Franse luxe haarverzorgingslijn Kérastase is al jaren ontzettend populair, en dat is niet zonder reden. Haarproducten van Kérastase zijn namelijk niet alleen ontzettend luxueus, maar halen ook het beste uit je haar. Wat wil je nou nog meer van een shampoo?
Kérastase bestaat al sinds 1964 en is onderdeel van de L'Oréal Professional Products Division. Het merk heeft een reeks aan shampoos voor elk soort haartype die de filosofie van het brede assortiment haarfijn weerspiegelen. Kérastase gelooft namelijk dat er geen eenduidige interpretatie van schoonheid bestaat, om deze reden omarmen zij alle soorten schoonheid, culturen, visies én natuurlijk haar.
Hieronder hebben we de 7 beste shampoos van Kérastase onder elkaar gezet, zodat jij de perfecte shampoo voor jouw haar vindt!
Resistance Volumifique Bain
De Kérastase Resistance Volumifique Bain beschikt over een geavanceerde technologie die speciaal ontwikkeld is voor fijn haar zonder volume. Dit product is geschikt voor elke haarlengte en geeft je haar volume en textuur zonder het zwaar te maken. De shampoo bevat kationische polymeertechnologie zodat kwetsbare zones van het haar met elke wasbeurt meer dikte krijgen.
Het meest geschikt voor fijn haar.
Reflection Bain Chromatique Shampoo
Heb jij je haar geverfd of heb je highlights? In dat geval is de Kérastase Reflection Bain Chromatique Shampoo perfect voor jou! Deze milde shampoo reinigt je haar zonder de kleur aan te tasten. Naast dat de shampoo zacht voor je lokken is, bevat het ook bestanddelen die ervoor zorgen dat je haar zijn gezonde glans behoudt.
Het meest geschikt voor gekleurd haar. Sulfaatvrij.
Resistance Bain Force Architecte
Dit product is ideaal als je last hebt van broos of zwaar beschadigd haar. Denk hierbij aan beschadiging door veelvoudig bleken, kleuren of stylen van het haar. Kérastase Resistance Bain Force Architecte versterkt, verzacht en reconstrueert je haar tot diep in de wortels, zodat jij weer kan genieten van een gezonde en glanzende coupe.
Het meest geschikt voor zwaar beschadigd haar.
Densifique Bain Homme
Kérastase heeft speciaal voor mannen een shampoo ontwikkeld die focust op het aanpakken van dunner wordend haar, iets wat een veel voorkomend probleem is bij mannen. Kérastase Densifique Bain Homme reinigt je haar op een zachte wijze terwijl het de haarvezels verdikt, zodat het na afloop schoon, fris én dikker aanvoelt.
Het meest geschikt voor dunner wordend haar.
Specifique Bain Anti-Pelliculaire Shampoo
Heb jij last van roos? Kérastase Specifique Bain Anti-Pelliculaire Shampoo is de ultieme oplossing voor jou. De shampoo bestaat uit een kalmerende mix van ingrediënten die zich richten op het aanpakken van hoofdhuidirritatie en het verminderen van schilfers. Bovendien hydrateert en verzorgt deze zachte shampoo je haar intensief, zodat je straks weer vol zelvertrouwen met glanzende lokken over straat kan.
Geschikt voor alle haartypen.
Blond Absolu Bain Ultra Violet Shampoo
Als je blond haar hebt, weet je waarschijnlijk wel dat deze kleur vaak net wat meer verzorging nodig heeft. Kérastase Blond Absolu Bain Ultra Violet Shampoo voedt je haar diep en licht de kleur subtiel op door middel van de paarse tinten in de shampoo. De kleur paars werkt goed tegen ongewilde koperachtige of gele tinten en is dan ook de uitkomst voor mooi en helder blond haar.
Het meest geschikt voor blond haar.
Elixir Ultime Bain Shampoo
Kan jouw haar wel wat glans gebruiken? Ga dan voor de Kérastase Elixir Ultime Bain Shampoo. Deze shampoo reinigt en hydrateert je haar en hoofdhuid op zachte wijze en blaast je lokken nieuwe leven in met een prachtige glans. Als jij je doffe haar weer wil laten glanzen van wortel tot punt, dan is deze shampoo perfect voor jou.
Het meest geschikt voor dof haar.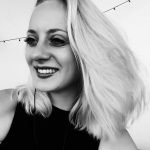 Sinds een aantal jaar heeft Anne een fascinatie voor alles wat met huidverzorging te maken heeft. Van de nieuwste technologieën van FOREO tot ouderwetse body brushes, alles is het waard om eens te proberen. Haar interesse komt voort uit de overtuiging dat een goede look begint bij een mooie huid; wanneer je huid op z'n best is, komt de rest vanzelf.