De December Beauty Box is hier! Oud & Nieuw komt steeds dichterbij en dat betekent dat we ons langzaamaan beginnen voor te bereiden op een feestelijke avond. Van naar de kapper gaan tot het laten doen van je nagels; alles wordt uit de kast getrokken om er zo goed mogelijk uit te kunnen zien! Om je hierbij te helpen, hebben we bij lookfantastic deze maand een Beauty Box uitgebracht die vol zit met glam producten.
Ga je naar een feestje met vrienden of wil je je simpelweg opdoffen voor een avondje thuis met familie? Geen zorgen, met deze box zie je er gegarandeerd schitterend uit!
Al vanaf €15,50 per maand kan je nu een abonnement afsluiten. Je zal dan elke maand 6 van onze populaire producten met een totale waarde van wel €60 ontvangen! Zoals gewoonlijk bevat de December Beauty Box bovendien het laatste issue van Elle, zodat je op de hoogte blijft van alle beauty en fashion trends. Hieronder hebben we alle producten uit de box van deze maand voor je onder elkaar gezet.
Real Chemistry Luminous 3-Minute Peel (20ml)
Om ervoor te zorgen dat je huid er op z'n best uitziet kan je deze Real Chemistry Luminous 3-Minute Peel in de douche gebruiken. De peeling verwijdert op zachte wijze dode huidcellen om je gezicht weer glad en stralend te maken!
PRAI PLATINUM Firm & Lift Crème (10ml)
Deze diep voedende crème verrijkt de huid met antioxidanten en is daarmee perfect om te gebruiken voor het aanbrengen van je make-up. De PRAI PLATINUM Firm & Lift Crème focust bovendien op tekenen van huidveroudering zoals een ongelijkmatige teint, droge huid en schade door invloeden van buitenaf.
Bumble & Bumble Invisible Oil Heat/UV Protective Primer (30ml)
Je hebt het waarschijnlijk weleens eerder gehoord, maar het is ontzettend belangrijk om je haar te beschermen tegen de warmte van haarstyling apparaten als föhns, stijl- en krultangen. Naast dat je haar beschadigd kan worden door dit soort apparaten, is het ook van belang om bescherming aan je haar te bieden tegen straling van de zon. Om deze reden bevat de December Beauty Box de Bumble & Bumble Invisible Oil Heat/OV Protective Primer, zodat je haar het hele jaar mooi en gezond blijft.
Sleek MakeUP I-Divine Palette (in Au Naturel, Goodnight Sweetheart of Oh So Special)
Welke oogschaduw je ook ontvangt in je Beauty Box, je kan met elk palette een overvloed aan prachtige looks creëren. Het Sleek MakeUP I-Divine Palette bevat 12 sterk gepigmenteerde tinten die perfect zijn voor elke feestelijke gelegenheid.
Eylure Texture 117 Lashes
Je feestelijke make-up look is natuurlijk niet af zonder nepwimpers! De Eylure Texture 117 Lashes kunnen voor zowel overdag of 's avonds gebruikt worden en zijn ook nog eens herbruikbaar. Ben jij op zoek naar wimpers met extra lengte en volume? Dit product is in dat geval perfect voor jou.
Eyeko Black Magic Liquid Eyeliner (4ml)
Met de Eyeko Black Magic Liquid Eyeliner kan je de meest dramatische oogmake-up creëren, ideaal voor een gelegenheid als Oud & Nieuw dus! Deze eyeliner is sterk gepigmenteerd en bevat een haarfijn puntje. Op deze manier kan je dus voor zowel een subtiele als uitbundige look gaan, het is maar net wat het beste bij je past!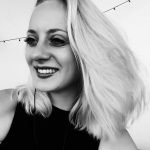 Sinds een aantal jaar heeft Anne een fascinatie voor alles wat met huidverzorging te maken heeft. Van de nieuwste technologieën van FOREO tot ouderwetse body brushes, alles is het waard om eens te proberen. Haar interesse komt voort uit de overtuiging dat een goede look begint bij een mooie huid; wanneer je huid op z'n best is, komt de rest vanzelf.